Business Overview
The SiO Controller is a simple input/output control system that makes electric automation accessible and easy for everyone.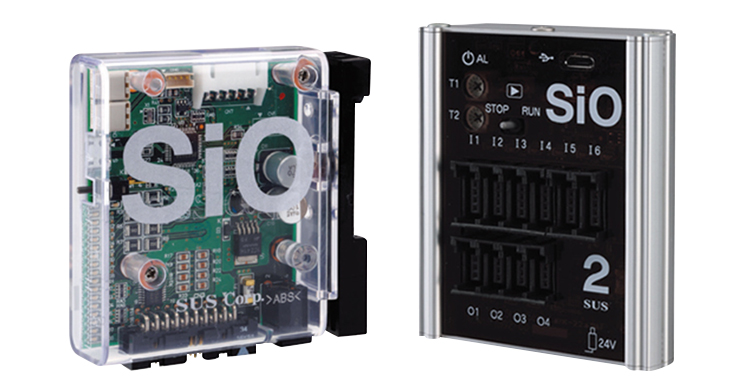 Features
Look at the ON/OFF status of an input device to send ON/OFF commands to an output device.
Use SiO Controller to set up the conditions of an output. When the status matches these conditions, the controller sends a command to the output device.
Here are a few examples of what SiO Controller can do:
Sound a buzzer when a button is pressed, for as long as it is pressed.
Activate a lamp when a pre-determined number of pieces have passed a sensor.
Silence a buzzer when a limit switch detects a workpiece.
---
SiO Controller is ideal for making simple improvements to situations where a full PLC would be considered "over-engineering.
---
SiO is designed with first-time programmers in mind.
Simple, Multiple-Choice Programming

Use "SiO Programmer," our dedicated software for Windows OS, to set up the output conditions. The system is logically designed so that anyone can write programs after a little practice.
-

"SiO Programmer" Operating environment

Operating System

Windows7 (32/64Bit) / Windows8 (32/64Bit) / Windows8.1 (32/64Bit) / Windows10 (32/64Bit)

CPU & Memory

800MHz and up. Usable memory 512MB.

Hard disk free space

Free space: More than 10MB

Display

Resolution: More than 1280 X 768. Color: More than 256 colors

Interface

USB port

Other

For Windows 7:
You must have the Microsoft .NET Framework 2.0 installed on your PC before you can install the SiO Programmer.
For Windows 8-10:
You must have the Microsoft .NET Framework 4.0 installed on your PC before you can install the SiO Programmer.
---
How to use SiO Controller
1

Imagine the Operation

In your mind, picture the ideal operational movements, focusing on the points you wish to improve.
2

Select the Right Devices

Choose the input and output devices that will achieve your ideal operation.
3

Installation and Wiring

Assemble the system, installing the input/output devices and necessary wiring.
4

Program the Operation

Create the output conditions using "SiO Programmer."
5

Write the Program

Connect the computer to the SiO Controller and write the program.
6

Execution

On the SiO Controller, turn the RUN switch to ON to activate the system.
Examples
Aluminum Frame
Actuators
Factory Automation