Company Profile
Message from the President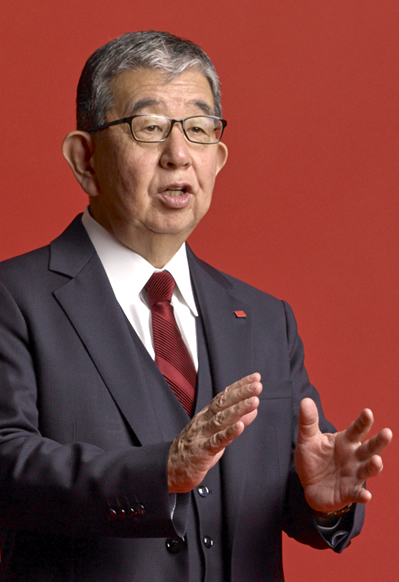 Continually evolve with aluminum Since its founding, SUS has tackled aluminum as a material and repeatedly challenged and revolutionized its use. Aluminum is a new material that is light, rust-resistant, and non-magnetic. It is environmentally friendly and sustainable, and enables efficient reuse and recycling. We have focused on these attractive features of aluminum since our inception, and continued to engage in research to develop and manufacture products that can help promote the evolution of society. As a result, SUS has won the largest share of the global market for aluminum extrusion frames. However, we will never be complacent with this accomplishment. We will continue to expand and evolve our operations focusing on aluminum.
Foresee the future and change society Labor shortage is an inevitable challenge facing humankind as a result of falling birthrates and aging populations around the world. Employers have sought rapid deployment of laborsaving, automation, and networking initiatives, in not only the manufacturing industry but also other industries, such as logistics, medical care, welfare, and services. Simultaneously, there has been an increase in demand for and interest in aluminum, a lightweight and maintenance-free material. We have anticipated the acceleration of the Internet of Things (IoT) and arrival of the era of artificial intelligence (AI) to meet the growing demand with steady supply. Meanwhile, we look toward the future to develop and create new solutions for generations to come.
The "global standard" aimed by SUS We are committed to the global standard that all employees engage in a company's operations with love and pride for the company's products and services, as well as for themselves and their colleagues. Independent of corporate interests, SUS will create standards to serve as an index for the aluminum extrusion frame industry and build a platform to accelerate industry growth. This is our duty as a leader in the industry. From the start, we believe that this is the shortest route to the realization of a sustainable society. We, at SUS, continue to operate as one unit as we expand from Shizuoka to take on the world.