Company Profile
Message from the President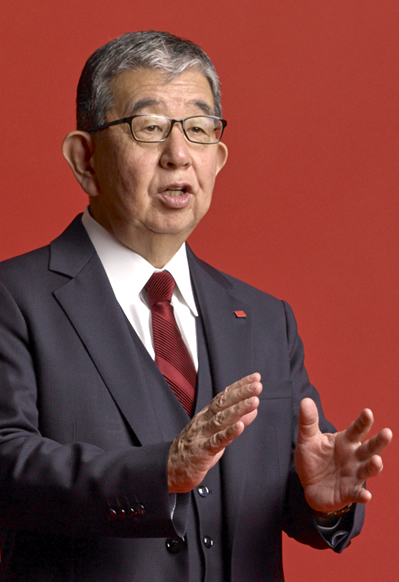 We aim to be the one and only one.
To keep going forward, and continue challenging our old methods with new advances and reforms.
That spirit is the "Global Standard" that we at SUS take pride in.
To advance the aluminum industry In recent years, from car parts to airplane fuselages, there has been a rapid rise in aluminum applications. Because aluminum is the core of our business, we are not simply manufactures, but also supporters of automation, instrumentation, and improvement in a variety of field including facilities for managing natural resources and the environment. Simply, these are our efforts to nurture new businesses which we believe may hold possibilities for raw aluminum.
Challenges in the 25th year In 1992, SUS was created in Shizuoka with only 15 employees. Now, we are a company with many branches both domestic and foreign, with an annual turnover of more than 17 billion yen, consolidated proceeds exceeding 20 billion, and about 650 employees in Japan alone. Now, while this is certainly an outcome brought about by our resolve to become the "first and foremost in the world," which we have held onto since our founding, undaunted by changing times, it is only a transition. We want to solve global problems, using advances and reforms that go beyond human progress. It is with this thought that we at SUS continue our mission even 25 years after our founding.We are proud of SUS's unchanging sprit.
Self-awareness and responsibility as the best in the world Since 2014, SUS's share in the market for aluminum extrusion frames has been the highest in the world. Based on our self-awareness and responsibility as the best aluminum frame maker in the world, we have put forward a new theme of "Global Standard," with 2020 as the target. Our idea of "Global Standard" is born of our vision of each employee showing pride in and love for their products and services, sincerity in their thoughts and actions, and dedication for the colleagues they work with as they pour effort into their work. We believe that this is the drive that will meet and even exceed the needs of our stakeholders and ourselves, and guide the development of society. We continue moving forward, aiming for the day the whole world will know of the name of SUS, and the "Global Standard" of our products.